Less than a week to go to the 5th and final Test match of the 2009 Ashes, and the tension is mounting. After
England's capitulation at Headingley
, Australia are overwhelming favourites to retain the urn, especially as they now don't have to win at the Oval. Their task is made a little harder by the return of Andrew Flintoff, assuming he remains fit for the next seven days, but they still hold most of the cards. Only Flintoff and Kevin Pietersen are feared by the Baggy Greens, so with Pietersen definitely unavailable, England are pretty much pinning their hopes on the Lancastrian's imposing but creaking figure.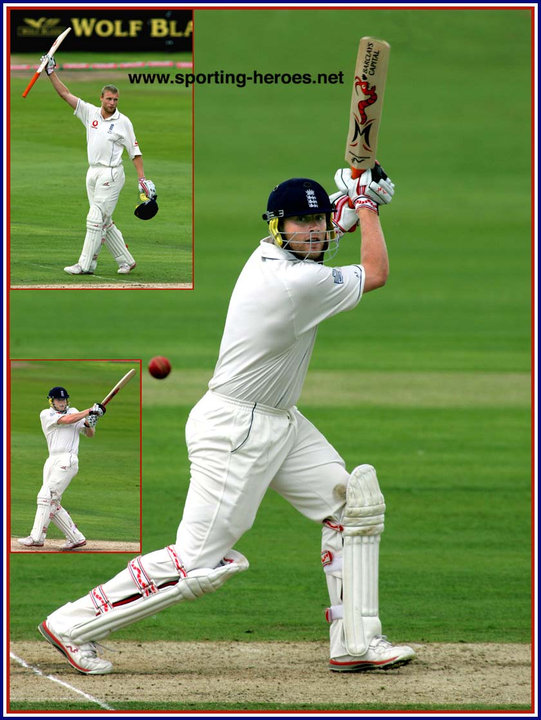 Time for one last round, Mr Flintoff?
The Flintoff phenomenon is a curious one. This is his last Test, so he will undoubtedly want to go out with a bang, and the reception from the Barmy Army will verge on the hysterical. His presence lifts England and worries opponents, but how great is he? His Test match batting and bowling averages are good but not remarkable (
3816 runs at 32.06, 225 wickets at 32.59
), although it seems he raises his game a little against the Aussies (
877 runs at 35.08, 49 wickets at 32.30
). Compare this with, say Ian Bell, whose Test match batting average of 39.84 drops to
24.60 when Australia are the opposition
(and just 18.07 when the matches are played in England).
To my mind, the mistake made by the England selectors at Headingley was to think that his pace would be missed most, and to replace him with Steve Harmison. Flintoff's main attribute as a bowler is his control*, giving the batsmen very few bad balls to hit and forcing them to try and chase the other bowling. In this regard, I think it would have been better to have picked Ryan Sidebottom, though it hardly matters now. Having Flintoff back for the Oval should improve the England bowling as a unit.
So, what about England's batting? Well, as I mentioned earlier, only Kevin Pietersen scares the Aussies and he's not available. In his absence, we're a bit stumped. Andrew Strauss is batting well, and so are Matt Prior, Flintoff, Stuart Broad and Graeme Swann. Unfortunately, this means the guys at 2, 3, 4 and 5 aren't. I find it no great surprise that Ravi Bopara has struggled at no. 3 - to expect a novice to bag loads of runs in such a pivotal and pressurized spot was always optimistic - and I'd like to see him drop down to 5. Getting rid of him completely would be too hasty after he scored so many runs earlier in the summer (albeit against the Windies).
Alistair Cook may as well continue at 2, even though he isn't converting starts into fifties and hundreds. He's a decent player, and
Marcus Trescothick doesn't want to come out of retirement
. Paul Collingwood could move up from 5 to 4, which leaves only the spot vacated by Bopara. It also leaves no space for Ian Bell, I'm afraid to say. He's played 39 Tests and he simply doesn't cut the mustard (especially against Australia, as illustrated above). He has to go.
The dearth of possible replacements is worrying for English cricket, but recalling Mark Ramprakash would be madness. He is almost 40 years old and, more importantly, has a considerably worse Test match average than Bell, despite playing Tests over an 11-year period. He is the past, not the future, and to select him for a one-off shot at glory would smack of the short-termist selection policies so beloved of previous England selection panels. Jonathan Trott may or may not be a long-term option, but giving him his debut at the Oval would be a huge gamble, and probably not one worth taking. Which leaves Rob Key, pretty much.
Key seems to be playing well, he's only 30, so would have a few years ahead of him, and has some experience of the Ashes already. Picking him at 3 would bring a bit of knowledge to the situation. It would also be an opportunity for him to begin a stint in the Test team whilst Bopara learns his craft in the middle order. My England team would therefore be:
Strauss (c), Cook, Key, Collingwood, Bopara, Prior (wk), Flintoff, Broad, Swann, Anderson, Onions.
I rather fear, however, that the selectors will pick this XI:
Strauss (c), Cook, Ramprakash, Bell, Collingwood, Prior (wk), Flintoff, Broad, Swann, Anderson, Panesar.
I doubt it will matter, as, even if they don't win, Australia have the stronger team and are unlikely to lose. Unless Mr Flintoff really, really wants another open-top bus tour...
----------
*Which is why I find it baffling that Australia are so reluctant to pick Stuart Clark. His Test bowling average is 23.21 (better than that of
Wasim Akram, Michael Holding and Dennis Lillee
) and his economy rate 2.59, the former dropping to a startling
18.44 against England
, yet the selectors regard him as expendable. His control, his strike rate, his wicket-taking ability, all are better than anyone else in their team, but still he is seen as fifth or sixth choice. It makes no sense at all, although I shan't complain if they don't pick him, as it does improve England's chances of winning.